How the Right Floors can Promote a Healthy Home



Did you know? The floors you choose can impact the indoor air quality of your home. From removing allergens to fighting bacterial growth, you might be surprised by the difference they can make. Here, we'll briefly discuss how the right flooring can help promote better indoor air quality.
Clean Home Destination Carpet with Microban

Carpet has a reputation for being easy to stain and difficult to clean. We used to see its fibers as the perfect breeding ground for bacterial growth. While modern carpet has changed this, carpet with Microban takes it a step further.
Microban is a rising name among leading antibacterial agents. It's designed to sanitize against a variety of microbes, including pathogens, mold, bacteria, and viruses. It also acts as an odor-fighting agent.
Microban technology is also available as a carpet treatment. It's applied during manufacturing so that the effects last the life of the carpet. While it's still important to clean carpet regularly, Microban will keep them fresher between cleanings. Each selection in our Clean Home Destination is treated with Microban. Even better, all Clean Home carpet includes SureBlok, a treatment that prevents stains and makes spills easier to clean. And, of course, it helps protect against odors, including those caused by pet accidents.
For Clean Home Destination carpet with Microban, just remember to vacuum once per week and have your floors professionally cleaned every 18 months. Easy maintenance, lasting cleanliness.
Porcelain Tile Flooring
The surface of porcelain tile is naturally hygienic. The surface creates an environment that prevents bacterial growth. It also resists odors caused by spills and pet accidents. Porcelain tends to be less porous than ceramic tile, making it easier to clean.
Floor Score Certified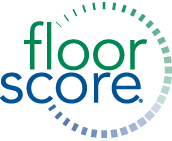 There was a time when some hard surface floors released emissions after installation.
Known as Volatile Organic Compounds (VOCs), these emissions could degrade indoor air quality and even prove dangerous to some sensitive people. The FloorScore certification ensures that certified floors are free of VOCs, or contain levels so low that they will never compromise the health of your family. Many of our luxury vinyl flooring styles are FloorScore certified for Indoor Air Quality.